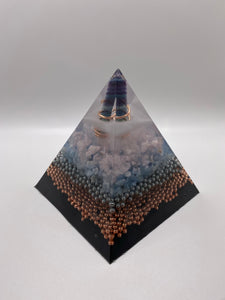 The Genuine Dreams orgonite features a fluorite point, glow pigment, rose quartz, aquamarine, steal beads, copper beads and a shungite base. This is a medium large sized orgonite pyramid standing at 11cm tall while the base is 10cm by 10cm. This is a great pyramid to make a statement while cleaning the energy in the environment!
Orgonite is a metaphysical simple machine that scrubs, cleans, circulates, and creates positive life force energy, chi, bio-electricity, prana, or whatever your chosen synonym may be.

In blind tests, Orgonite has been statistically shown to have positive psychological benefits including elevated mood, emotions, and increased energy and enthusiasm. In addition, it can be used for a plethora of various applications including but not limited to, environmental cleanup and energization, holistic healing, meditative and ritualistic use, and protection from negative personal and electromagnetic energy.

On a simple scientific level Orgonite absorbs cations which are harmful positively charged ions, transmuting them and emitting anions which are beneficial negatively charged ions (that which the sun emits).

On a spiritual level Orgonite is a great tool for manifesting. In my personal experiences when I write words of affirmation or even a wish on a paper and place it under the Orgonite my wish would come true rather quickly or my affirmation would swiftly be validated.

Featured Crystals
~ Fluorite absorbs and neutralizes negative energy and stress. An excellent learning aid, Fluorite increases our powers of concentration, self-confidence and helps us in decision-making. It enhances creativity, encourages positivity, balances the energies, and improves balance and coordination, both physically and mentally.  Fluorite is a great crystal for those who need artistic inspiration, creative ideas, and child like wonder.
~ Rose Quartz is the stone of universal love. It restores trust and harmony in relationships, encouraging unconditional love. Rose Quartz purifies and opens the heart at all levels to promote love, self-love, friendship, deep inner healing and feelings of peace. Calming and reassuring, it helps to comfort in times of grief. Rose Quartz dispels negativity and protects against environmental pollution, replacing it with loving vibes. It encourages self forgiveness and acceptance invoking self trust and self worth.
~Aquamarine is known for providing tranquility, serenity, clarity, and harmony. As the first of the spring birthstones, the sea blue crystal represents transformation and rebirth. It embodies youthful vitality, purity, loyalty, hope, and truth. Not only does this activate our inner courage, but it inspires creative expression and enhances artistic skills. It is this alignment with oneself that promotes empathy and kindness. These qualities, of course, engender trust and peace with others.

~ Shungite is a carbon-based crystal that was first sourced in the small village of Shunga in Karelian, Russia – a place where it is still mined today. This stone is considered unique not only for its high carbon composition (some stones ranging from 30 to 99% pure carbon), but also because it consists of nearly all the elements on the periodic table. Shungite is the crystal of grounding, detoxification, and neutralization. To many crystal enthusiasts, the meaning of shungite ranges from physical protection to spiritual protection from draining or harmful energetic forces. Whether you feel weighed down by heavy emotional baggage or simply want to shield yourself from a physically toxic environment, shungite can support the intention of purification and cleansing.  
Please allow for all orgonite artwork to be created, cured, and shipped within 6-40 business days as they are made to order and individually handcrafted.